Apricot and Jono have moved into their new home. They've downsized from their luxury home in the West to a bedsit in the East, but as Jono says, poor is the new black, so…
They have invited their neighbours to a house warming party, some have brought their friends, which should make for a good party, although they are still waiting for their celebrity guest.
Apricot and Jono don't have much stuff – they moved in a bit of a rush – but they are making the most of their new look. There are nibbles rustled from left-overs and yesterday's champagne and some really good tunes. However, the party is not going very well. There's not enough booze, only Apricot is dancing and the conversation is distinctly stilted.
There are the phone calls, shouts from the street, banging at the door. The new neighbours are hiding something, but what is it – bad debt, lies, deceit, worse?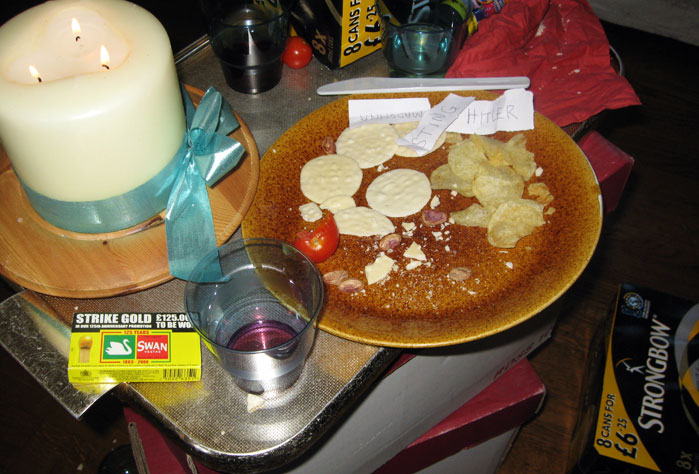 House Warming is a highly interactive experience, where the audience meet each other as they might at a party, playing games and telling secrets (though not necessarily real ones).
A 10 minute extract of House Warming was presented as part of BAC's Scratch Festival in October 2008 and is currently in development. Director and Designer: Paschale Straiton, Performers: Bernadette Russell and Philippe Spall. The show is devised by the company.