An alternative guided tour about Brighton's eccentric characters and the nature of eccentricity itself – part performance, part audio guide, part treasure hunt…featuring the exploits of such characters as the dilettante actor Romeo Coates, the art work that was Drako Zarharzar and the Doreen Valiente, the mother of modern witchcraft.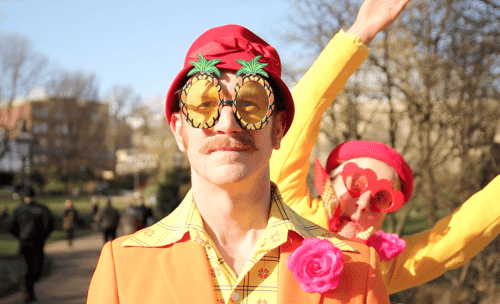 Creative Team
Co-Writers and Performers: Ivan Fabrega and Paschale Straiton
Director: Paschale Straiton
Design: Lucy Bradridge
Sound: Thor McIntyre Burnie
Installation and Graphics: Catherine Soanes
Outside Eye: Katie Etheridge
Production Support: Marion Duggan
Funny Peculiar was originally created in Brighton in 2014. The show was funded by Arts Council England and Brighton City Council, with support from Brighton Theatre Royal, The Brighton Youth Centre and Ragroof Theatre.
Special thanks Elly Hargreave, Matt Rudkin, John Baldock, the Max Miller Society, Nick Jones, The Walley Range Allstars and all of our sponsors.
Funny Peculiar Brighton Characters