Psychic medium Hazel Doe is waiting for you to step across the threshold of her mysterious reception room – a popular haunt. When you are sitting comfortably, she will lift the veil between this world and the next and…talk to the spirits. If she's up to it, you may even witness a rare spiritual manifestation. Beware, a ghostly finger may be pointing to you…
The Séance is a 15 minute, intimate theatre piece, which takes place in a highly ornate and dimly lit Victorian parlour. a group of people enter the room, hold hands in the dark and experience a Séance at the hands of Hazel Doe – mystic to the stars and her spirit guide Colin.
The show accommodates 18 members of the public at a time and can be performed up to 9 times in a day. It is suitable for children 10+ and is accessible for wheelchair users.
The show was commissioned in 2008, by The Winchester Hat Fair and Arts Fresco, Market Harborough, supported by the Without Walls Consortium and funded by the Arts Council of England.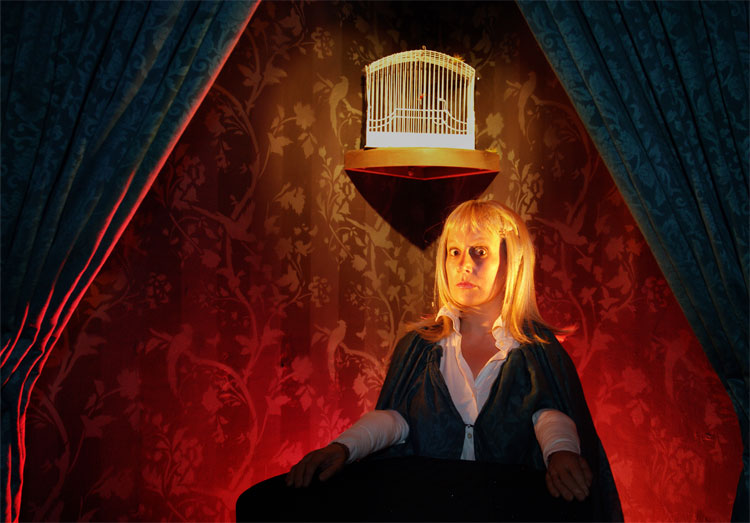 The Séance is a collaboration between Paschale Straiton and an exceptional team of artists – Set Design: Charlie Camm, with support from David Bernstein (Strangelings) and James Chaplin, Sound Design: Mercedes Maresca, Devising: Lucy Bradridge, Flick Ferdinando, Bernadette Russell, Paschale Straiton, with support from Mick Barnfather, Brenda Waite and John Paul Zaccarini.
Jonathan Holloway from Norfolk and Norwich Festival wrote: 'This beautifully performed, eloquently structured work was definitely a highlight of City of Secrets. It brings together elements of traditional fairground, sideshow culture and contemporary performance giving them a popular appeal, which transcends the sum of its parts. Highly recommended.'
It is part of the National Theatre's 'Watch This Space' programme from 29th July to 2nd August 2009 and is available for touring from May 2010.
The Séance is managed by Time Wont Wait (www.timewontwait.com) and Fools Paradise (www.foolsparadise.co.uk)