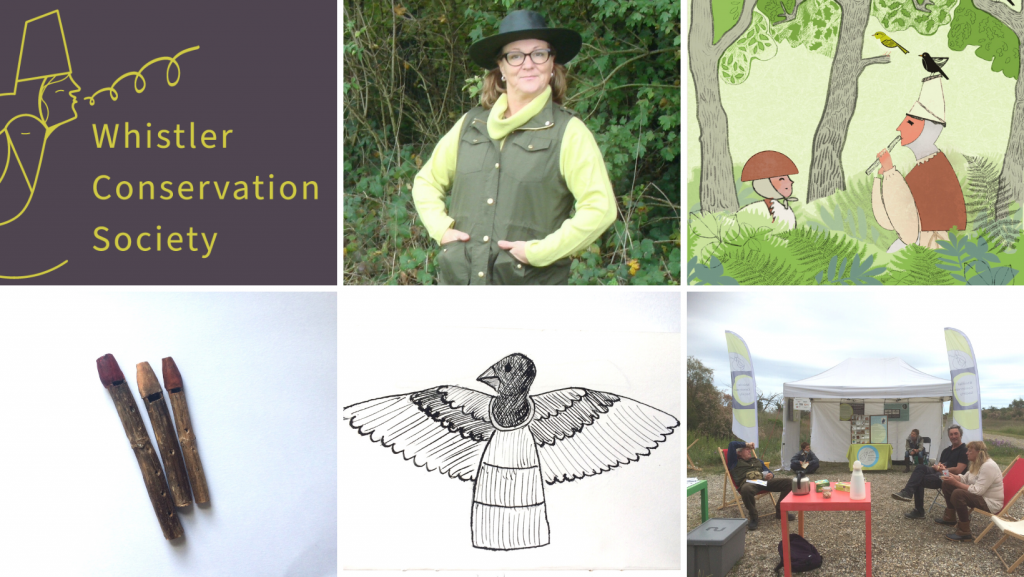 The Whistlers is an outdoor arts project that engages people in the art of listening, through the creation of a fictional culture of people – The Whistlers – who have a close symbiotic relationship with birds, live deep in the woods, far away from the modern world and communicate by whistling.
The Whistlers was commissioned by Green Carpet – a consortium of 4 arts organisations across France, Belgium and the UK. It was designed to be developed through a series of residencies in each place, so that we tailored our work to these people and places.
Sadly the impact of Covid has meant that our engagement was less intensive than we would have liked. However, we believe that the project has the most impact when the show sits at the end of an outreach process – encouraging people to take part and become creative about the fictitious world of The Whistlers – to appreciate more deeply the natural environments around them and to consider ideas about environmental migration.
How to people take part?
The public encounter the Whistler Conservation Society – through posts on social media, a series of short films and through visiting a WCS information booth on an identified Whistler site where Whistlers are known to have settled recently. For in recent years, Whistler people have started to move from their traditional homes in Eastern Europe and have popped up in various parts of Western Europe. Why this is happening is open to debate. Some believe that they fleeing from their traditional homes in remote areas of Eastern Europe due to intensified logging and deforestation. Some that they looking for birds with whom they live that are close to extinction. One thing is for sure, where they are spotted, the Whistler Conservation Society – Lynne, Robin, Eva, Félicitéand the rest of the team – will be on hand to encourage local people to cherish and protect these unusual people.
The project includes a range of activities that cover a range of interests and budgets
Community Participation
Workshops in Whistler language & culture and nature connection
Training to become a WCS volunteer, supporting the story online and in character
Performances
A Charity Event with presentations from the Whistler Conservation Society
An hour long Whistler Spotting show provides a sensitive, creative and humorous opportunity to observe Whistlers in their temporary woodland homes.
Technical Requirements
Outreach activities and a WCS Charity event can take place in the community but the show is designed to take place in an expansive woodland space.
For the show we require a gazebo (2m x 2m) – ideally white to be placed in a flat and sheltered spot. We can provide all the set dressing, information boards and artefacts.
For performances we need access to a dressing room, including charging facilities for our electrical equipment.
For more information please contact us: fiona@redherringproductions.co.uk