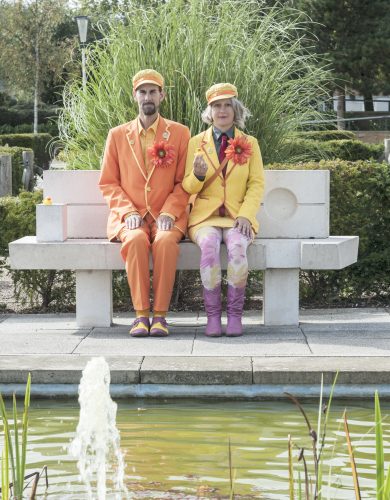 Funny Peculiar – A guide to Eccentric Britain is an alternative guided tour, which investigates and celebrates eccentrics and the notion of eccentricity.
'…somehow, when Lesley and Leslie are around, having harmless fun in public seems perfectly OK.  Psychologically, this show is a masterpiece, and creatively, it's full of joy.  Don't miss it.'
Fringe Guru
In 2015 we teamed up with extraordinary creative producers Time Wont Wait to investigate eccentricity across Britain, developing bespoke tours in each place that included ridiculous performances and curious audio on radio controlled headsets, gently encouraging people to have glorious fun in public places.
We kicked off in Bath, in partnership with the Bath Fringe and the Natural Theatre Company. During our month-long residency at Funny Peculiar HQ, 36/37 Wastage Street, we spoke to people about local characters and mapped the local eccentricity levels. We worked with the Naturals to deliver workshops at youth centres in outlying areas of the city and with Tessa McGinn to develop a Peculiar Choir for the show finale. We worked with a brilliant bunch of local performers who popped up at various points along the route, helping us remember the characters of Walcot Nation Day and providing a colourful cavalcade through the city centre with a nod to Bath's Pigeon Man on the way.
Next stop was Coventry – only for the day, hosted by the Festival of Imagineers, where we shared our research, especially about the incredible inventors of the city and wreaked a small bit of havoc in Broadgate.
On to Stoke on Trent. This time our HQ was in Hanley covered market, where we became firm friends with several stall holders, many of whom provided voice recordings for the audio part of the tour. We fitted a brass band in our stall and talked to some real characters including George, an elderly teddy boy, Phil who likes to be bespangled in badges and the O'Malley family of cosplayers. A bunch of local performers appeared along the tour as contestants in the ancient Potteries (or Potty) Olympics featuring the famous Oat Cake Toss and as the extraordinary residents of Lichfield Street. And the Penkhull Ukulele Band provided live music for our finale in the Bus Station! Thanks to our partners Appetite for all their help and support.
Next was sunny Margate. We were based at the Theatre Royal, from where we investigated a plethora of characters including the avid ghost-hunters who investigate at the theatre, the multitude of fine artists that have gathered here from Turner to Tracey Emin and Margate's own Clown Poet. We took our roving HQ out on the streets to meet locals and day-trippers who shared stories and considered their own eccentric tendencies. For the show, we worked with Margate Deamland who generously allowed all of our audience members free access to the site. And their Funfairer troupe created a special dance for our finale.
We ended up in Harlow, supported by the Harlow Playhouse. We opened our HQ in North Gate Square. We went to a dog show and hosted small impromptu workshops in stupid dancing and kazoo playing. We found out about the curious nature of the New Towns designed after the war, the brilliant vision of Harlow New Town's designer Frederick Gibberd. But the highlight was our encounter with Tigerman, local celebrity, who defends the town from Tigers (A: But there aren't any Tigers in Harlow T: Exactly) and who loves to dance to the Pan Pipe players in the Market Square. After wending it's way through the town centre, and hijacking an empty shop for a tribute to punk, the tour finished up with a wonderful song and dance with Razed Roof inclusive theatre company.
Thanks all for helping us celebrate the peculiar people and things in life for as Groucho Marx said, 'Blessed are the Cracked, for they let in the Light'
Writer, Deviser and Performer: Paschale Straiton (Leslie)
Writer, Deviser and Performer: Michael Wagg (Lesley)
Performer and Facilitator: Lucy Frost (Vivienne)
Performer and Facilitator: Simon Spencer Hyde