A programme of distinctive, fun and captivating outdoor performance in towns and rural areas around the Taw/Torridge Estuary. Through these experiences, we aim to encourage people to come together to experience familiar places in unfamiliar ways – places that sit within the North Devon Area of Outstanding Natural Beauty and outlying towns and villages.
What we mean by 'performance' is quite open ended – it might involve theatrical characters interacting with the people in the street or on the beach, audiences joining us on a creative walk, or being immersed in a piece of sound art on headphones. All events are free of charge.
---
Stepping Out – Creative Coastal Walks
WALK 1: Northam Burrows at 2.00 PM on June 8th and 9th 2019
Join Red Herring on a unique shared journey, a fun and intriguing performance walk, which reveals little known stories of our coastline and invites us to experience it in new ways.

Come and walk with us along the unique Northam Burrows coastline. This place may already be familiar to you, we'll experience it together, in new and unfamiliar ways.
You'll be immersed in a journey of both travel and time: a monumental journey of the earth beneath our feet; the migratory routes of wintering birds; the marks left behind by boatbuilders and the footprints of life along this coastline.
Through snippets of text, recorded sound and found objects, we'll investigate the stories attached to the land as we travel across it.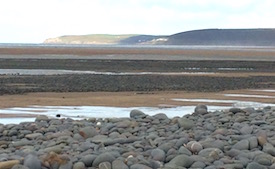 A circular walk, developed in partnership with Northam Burrows Country Park, will cover 2 – 3 miles over uneven ground. Please come prepared to walk this distance with suitable outdoor footwear and clothing. You will walk for about 1.5 hours with frequent stops and creative interludes along the way. We will provide light refreshments.
Unfortunately, as the walks take place over uneven ground, we aren't able to accommodate wheelchairs or push chairs. Please also note, as we'll be walking in a group, we also request that dogs stay at home.
Walks are suitable for young people aged 13+.
Numbers are limited to 20 on each walk.
Tickets are FREE, advanced booking is essential.
Please note, performance duration and finish times may vary, depending on the walking pace of each group. The walks will start and finish from The Skern end of Northam Burrows Country Park.
Red Herring will be running further Stepping Out events in September 2019, please join us on Facebook, Twitter and Instagram for updates. Events will include a new Creative Coastal Walk as well as an Interactive Walkabout Performance and Sound Installation see below for details.
---
Waders – Interactive walkabout performance
Torridge and Taw Estuary is an important habitat for the some of our endangered wading birds. We will celebrate these wonderful creatures, with a piece of exquisite, interactive performance. Get your binoculars out and see if you can spot the extraordinary pair, half human, half bird, in search of nesting sites. You might see them in Bideford or Westward Ho! or in the wilder reaches of the estuary. A prize for the best snaps.
---
Creek – Sounds of the estuary
We will make field recordings along the rivers Taw and Torridge to the Estuary – the babbling of the river to the crash of the waves, the sounds of birds and other creatures along the way, and snippets of conversation from people who have lived and worked here. And these will be spun into a series of beautiful and odd compositions. These will be incorporated into our performances and they will be broadcast in a public venue – watch this space for details.
---
Stepping Out is supported with funding from Arts Council England and the North Devon Coast Area of Outstanding Natural Beauty. The North Devon Coast AONB funding is supported through their Sustainable Development Fund (SDF) which is funded by Defra. Stepping Out is part of a series of events celebrating the 60th Anniversary of the North Devon AONB.
If you or your organisation are interested in getting involved, please contact us: paschale@redherringproductions.co.uk
Images are licensed to the creative commons.