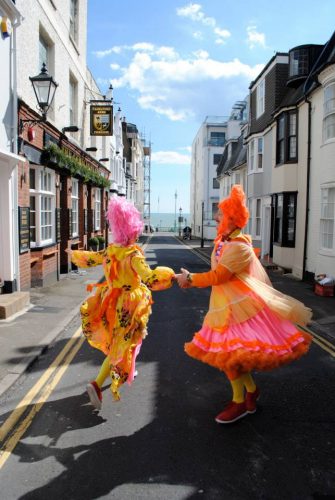 Red Herring is a theatre company
We are based in Bideford, North Devon
We believe that play can have a transformative impact on people's lives, stimulating creativity and happiness, whatever our age.
We believe that performing in public spaces can have a transformative impact on communities, bringing people together for shared experiences that strengthen local connections and reduce loneliness.
We provide opportunities for members of the public to take part – through workshops, in performances and as actively engaged audience members.
Red Herring is well recognised in the Outdoor Arts Sector. We have received commissions from the Without Walls Consortium, Winchester Hat Fair, Arts Fresco Market Harborough and Magnetic Events and funding from Arts Council England, The Heritage Lottery Fund and Awards for All. The Directors are both on the Steering Committee of the National Association of Street Artists.
For more information, please get in touch at: admin@redherringproductions.co.uk