The Audio Experience
Looking for 10 minutes of peace and quiet? Or to remember some happy memories of holidays by the sea? Get a comfy chair, an eye mask ready and pair of headphones ready. Click on the link below to listen to the audio. You'll be projected into an open landscape – the skylarks are busy and the wind is up. Footsteps take you along the edge of the beach and down to towards the sea and your dreams.
The Touch Tour
If you enjoyed the audio experience, you may wish to offer a more immersive experience to a friend or family member. We have developed a tour touch which follows the audio, where the listener is invited to investigate a range of objects and textures: bucket of sand, a handful of sheep fleece, a shell, a pile of seaweed. This is a really fun activity for children aged 7-12, has proved very popular with people with learning difficulties and is stimulating for people experiencing dementia. For those of us who sit somewhere in the middle, the effect is meditative and calming, unless the guide wishes to be a bit more mischievous…
Follow the How to Video and How to Guide which describes the touch tour that we have developed. If you are able to get hold of the items that we suggest then you can follow the video quite closely. If you can't then you can use your imagination and improvise – you'll probably make some fun or curious discoveries!
For further information please contact fiona@redherringproductions.co.uk
Please Note: As of 1st July 2020, it is only appropriate to guide someone through this experience with whom you have been living with during lockdown – who you are able to touch safely.
How to Guide
Sort out the technical things

Collect 2 devices for you (as the guide) and your friend or family member (as the listener) and 2 sets of headphones. Make sure that you can access the track on soundcloud. If the listener chooses to wear a facemask for the experience, you'll have to turn both devices on, one after the other. Don't worry if you get a little bit out of sync, but do have a practice, to make sure that you can trigger the track on both devices easily.

Choose a location

Choose your location, maintaining internet connection. Ideally this will be outside or by an open window so that the listener can feel something of the outdoors. If the only windows available open onto a busy road, you may wish to close the window. The listener may sense the sun on their face. Alternatively you may choose a completely different location like the bathroom, where the listener may be able to put their feet in the bath! Make sure that your listener has a comfy chair or cushion to sit on.

Collect some touch tour objects

An eye-mask or a scarf or a piece of cloth used as a blindfold
A container of of gravel You may find some in your back yard or garden or if you keep fish, you can use gravel for the fishtank. A collection of pebbles or a pile of dried beans could do the trick
A container of sand You can raid a sand pit, get some from the beach or from a builders merchants
A towel to clean or dry the listener's hands
Some raw sheep's wool You may find this if you live in the countryside – if not, then feel free to use a ball of wool or the sleeve of a jumper
A feather If you find one, make sure that you disinfectant it before use; alternatively you could make one out of paper
A fan You can use an electric fan or a hand held fan. If you don't have one, you can use a piece of cardboard shaped like a paddle
2 large pebbles You may have picked some up on holiday. Or you may get a similar experience with a potato, if its nice and clean
A tub of water with a jug for pouring If your listener is happy to get their feet wet, make sure that this is big enough for them to put their feet in
Seaweed You can buy dried seaweed from many healthfood shops – just add to water to re-hydrate. Or a bit of wet lettuce might do just as well

Have a practice

Arrange the objects on a table where they are easy to reach.
You will offer the listener a series of objects to hold or touch, which seem to compliment the sound, helping them to feel more fully immersed in the experience. Have a run through to make sure you've got all the things where you want them and to stimulate your imagination. Just once through is fine.

Prep the listener

Choose your time. You may wish to make sure that the listener is ready to tune out of the day and into an alternate headspace.
Before you start, ask the listener how they would like to experience the journey. They may be happy to wear headphones but if they wear hearing aids, they may wish to hear the sound through a speaker system. A quick test will help them decide. They may wish to wear an eye-mask or to simply close their eyes. They may be happy for you to touch their hands, arms and feet. They may want to ekeep their shoes and socks on. You can adapt accordingly.
Before they get into position, cover the objects so that they come as a surprise

Go for it! Record the experience and get in touch afterwards

See how playful you can be. You may which to synchronise with the sound – for example placing their fingers on the sand in time to the footsteps. You could tickle with a feather when you hear the birdcalls or encourage people to smell the seaweed. Some people wish to explore objects on their own. Others may be more passive and wait for you to direct them – be open to let them respond how they wish.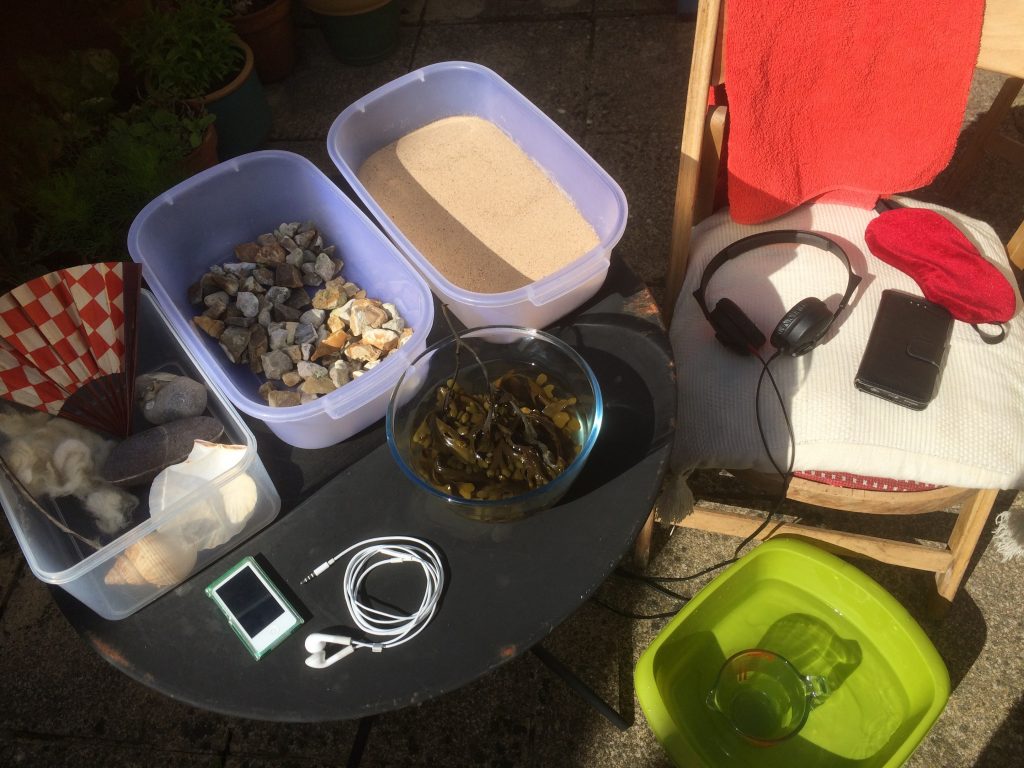 For further information please contact fiona@redherringproductions.co.uk