In a world that's lost some of its sparkle, we're on hand to bring you a dose of shizzle. Let those Disco beats lure you back into fun times and let rip with your family, friends and neighbours. As James Brown said, 'The one thing that can solve most of our problems is dancing!' so we're putting this to the test…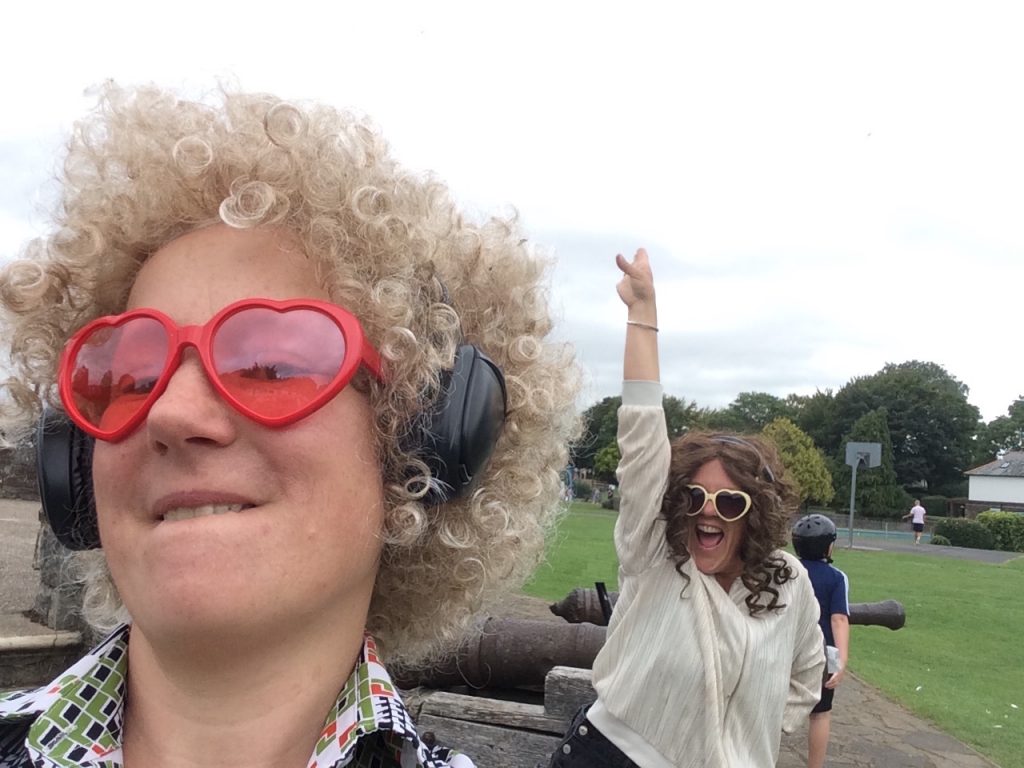 We can arrive at a private garden, neighbourhood patch or public park with a set radio controlled headsets, all carefully sanitised for your use and a set of hola hoops (also cleaned) to remind you of social distancing courtesy, even when it's no longer the law. DJ DisDance is on hand to maintain the distance and to teach some favourite Disco moves. Mashed Potato anyone? And if people are ready, the group turns into a spaced out conga, weaving its way around and about the area.
The set list is divided into 20 minute slots to allow people to swap in and out if necessary. And if you'd prefer an alternative to Disco – which we believe to be the most accessible and playful genre around – we also offer a range of alternative sets, available on request.
We can accommodate up to 25 people dancing at a time with pauses in the playlist to encourage people to swap in, if there are people waiting. Limited numbers ensures that people can dance at safe distances across a park or public space and also that we can keep an eye on social distancing and intervene if necessary.
Originally commissioned by the Burton Art Gallery in Bideford, the Social DisDance is Silent Disco made appropriate for a socially distanced world. While we are aware that the law is changing around social distancing, we wish to ensure that everyone feels safe and happy to join in.

The Music
The Social DisDance Silent Disco comes with a range of playlists:
Disco – a range of classics and less well known grooves which will appeal to the disco expert, made with the help of disco diva DJ Local Honey from Club Click in Brighton.
Ska and Two Tone
Punk and New Wave
Hip Hop and Funk
Trip-hop and Electro Pop
Jazz and Electro-Swing
Most Silent Disco set ups in clubs use two channels, so that dancers can tune in to different playlists. There's fun in trying to work out who's dancing to what. However, when dancing outside in public during the daytime with small crowds, people can be a little more shy. Therefore we advise using one channel, so that people can feel safety in numbers and part of the crowd. If however, you would wish to have 2 channels, we can accommodate this.
For more info please contact paschale@redherringproductions.co.uk