We are developing a programme of distinctive, fun and captivating outdoor performance in towns and rural areas around the Taw/Torridge Estuary. This aims to encourage people to come together to experience some familiar places in unfamiliar ways, places that sit within the North Devon Area of Outstanding Natural Beauty and the outlying towns.
What we mean by 'performance' is quite open ended – it might involve theatrical characters interacting with the people in the street or on the beach, audiences joining us on a creative walk, or being immersed in a sonic experience. All events will be free of charge and we wish to accommodate people with access needs.
In 2019 we will be providing a series of tasters:
Waders – interactive walkabout performance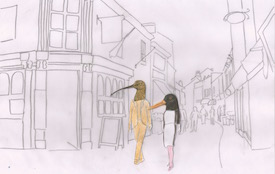 Torridge and Taw Estuary is an important habitat for the some of our endangered wading birds. We will celebrate these wonderful creatures, with a piece of exquisite, interactive performance. Get your binoculars out and see if you can spot the extraordinary pair, half human, half bird, in search of nesting sites. You might see them in Bideford or Westward Ho! or in the wilder reaches of the estuary. A prize for the best snaps.
Creek – sounds of the estuary
We will make field recordings along the rivers Taw and Torridge to the Estuary – the babbling of the river to the crash of the waves, the sounds of birds and other creatures along the way, and snippets of conversation from people who have lived and worked here. And these will be spun into a series of beautiful and odd compositions. These will be incorporated into our performances and they will be broadcast in a public venue – watch this space for details.
Sidetracks – creative coastal walks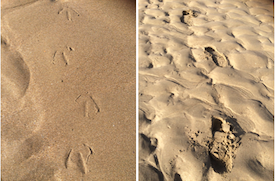 Come and walk with us from the town to the mouth of the river. Each group will be given a number of rucksacks. These contain instructions, snippets of text, objects and images to share and respond to. And more bits and bobs may be found in hidden places along the way. The group will be immersed in a contemplation of travel and time: the monumental journey of the earth beneath our feet; the migratory routes of wintering birds; and the tracks of boatbuilders on this bit of coast.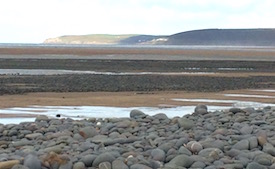 Follow us on Facebook, Twitter and Instagram for updates.
If you or your organisation are interested in getting involved, please contact us: paschale@redherringproductions.co.uk
Images are licensed to the creative commons