Created in partnership with Producers Time Wont Wait, the show is a raucous, alternative version of the notorious Victorian seaside entertainment.
With puppets, music and knockabout choreography the infamous rebels take to the streets and ask the public for their support. Who will win the war on freedom of expression and civil rights? Will the Polite Policeman have his way? Punch and Judy ask the public, what is harmless fun and when is it going too far?! That's The Way To Do It! sees Punch and Judy return as a vehicle for hilarious satire in our anxious, credit crunched world.
The show toured across the UK as part of the Without Walls Programme in 2011 and in 2012 was a focus of The Queen's Jubilee Celebrations in Dover and a special scaled-up version was created in Wandsworth for the Showtime Festival for London 2012.
Creative Team
Writer & Director: Paschale Straiton
Creative Producer: Sarah Sansom, Time Wont Wait
Devising Performers: Tom Adams, Alice Robinson, Philippe Spall, Simon Spencer-Hyde, Sarah Thomas-Lane & Frank Wurzinger
Music and Sound Design: Matthew Xia
Designer: Alison Neighbour
Fight Director: Kate Waters
Choreography: Lina Johansson
Masks: Nick Ash
Production Manager: Lee Jones
Stage Manager: Lindsay Stockley
Filming: Justin Jones
Photography: Pau Ros, Chuck Douglas, George Rockett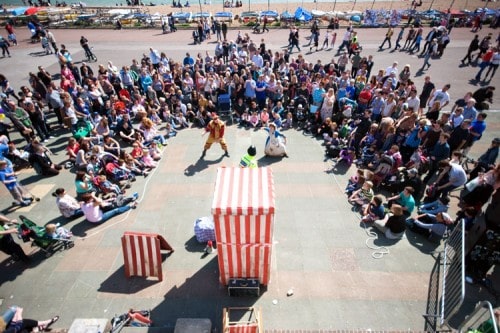 Research and Development was funded by Arts Council England in 2009 and the show was commissioned by Without Walls in 2011. Special thanks to: Bernd Fauler, Gregory Hall and Bernadette Russell